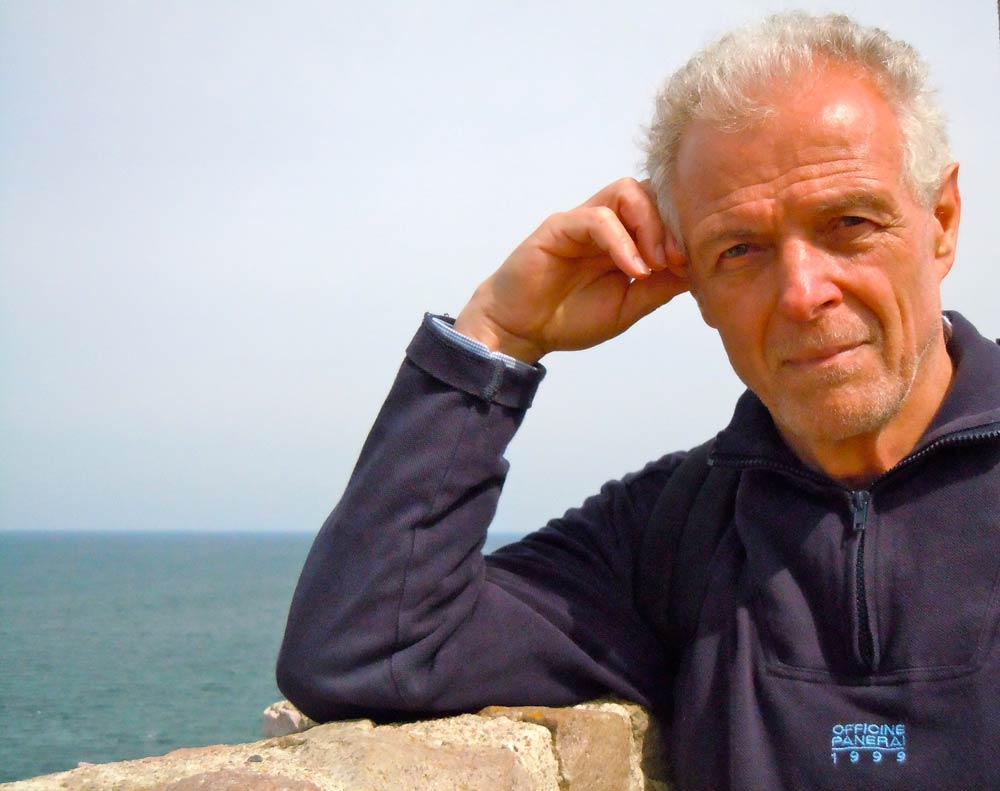 For more information or to discuss commissions and collaborations, please get in touch at hk@kodré.at.
My works always start out from sculptural ideas and their adaptation to the requirements involved in the wearability of jewellery. And here the limits of wearability (which are very differently assessed according to the individual) can be extended or even experimentally overstepped.
However, the borders between sculpture and jewellery are fluid. Hence this results very frequently in unwearable, pure »showcase pieces«, hybrids, which do not convince either as jewellery or as sculpture. I endeavour to avoid such outcomes and to create either jewellery or sculptures, but not chimeras.
My works do not transport any kind of message; they stand alone, for themselves, and communicate nothing apart from their appearance and workmanship. Thus everyone can find free, self-determined access to them, one that is not steered by specific conventions into a defined direction.
Helfried Kodré, 1940, Graz, Austria.
EDUCATION
1961–65
studied art history at the University of Vienna
1961
first contact with goldsmithing through Elisabeth Defner
1962–75
collaborated with Elisabeth Defner in a joint workshop
1964
first independent work and onset of participating in exhibitions
1975–83
interrupted his work as a jewellery-maker to finish studying art history
1984
took Dr. phil. (PhD) degree
1985–96
instructor at the Department of Art History, University of Vienna
since 1992
again working as an artist (jewellery and sculpture), at first in parallel with teaching at the University of Vienna
1996
ceased teaching at the University of Vienna to concentrate entirely on his art
WORKS IN PUBLIC COLLECTIONS
Dallas Museum of Art (Rose-Asenbaum Collection), Dallas, Texas
Danner-Stiftung, Munich, Germany
Die Neue Sammlung – The Design Museum, Pinakothek der Moderne, Munich, Germany
MAK – Museum für angewandte Kunst, Vienna
MAKK – Museum für angewandte Kunst Köln, Cologne, Germany
MUSA Artothek, Vienna
Muzeum Českého ráje v Turnově, Turnov, Czech Republic
Muzeum skla a bižuterie v Jablonci nad Nisou, Jablonec nad Nisou, Czech Republic
Sammlung der Kultur-Abteilung der Stadt Wien
Schmuckmuseum Pforzheim im Reuchlinhaus, Pforzheim, Germany
Swiss National Museum Zürich (The Alice and Louis Koch Collection)
Universalmuseum Joanneum, Graz, Austria
AWARDS
1967
Bayerischer Staatspreis
1968
Preis des Wiener Kunstfonds
2000
Preis der Stadt Wien für Bildende Kunst
2007
Eligius-Schmuck-Preis des Landes Salzburg
SOLO EXHIBITIONS (SELECTED)
1964
MAK – Museum für angewandte Kunst, Vienna
1969
Galerie Welz, Salzburg, Austria
1970
Galerie Orfèvre, Düsseldorf, Germany
1971
Zentralsparkasse, Vienna
Österreichisches Kulturinstitut, (Austrian Cultural Institute) Warshaw
1972
Galerie Arkade Schullin, Graz, Austria
Galerie Cardillac, Munich, Germany
1974
Galerie am Graben, Vienna
1993
Galerie Slavik, Vienna
1995
Electrum Gallery, London
1997
Galerie Slavik, Vienna
2000
Galerie iBO, Klagenfurt, Austria
2005
»Trasformazioni – Gioielli e sculture«, Le Arti Orafe Art Gallery, Florence, Italy
2009
»Helfried Kodré, Sculture e Gioielli«, Galleria Daniele, Padua, Italy
2010
»Helfried Kodré, Schmuck und Kleinskulptur«, Galerie Slavik, Vienna
2018
»Sinergie« – Helfried Kodré & Heidemarie Herb, Galerie Slavik, Vienna
2018
Geometric Territories: Helfried Kodré Jewels and Sculptures, Hannah Gallery, Barcelona
GROUP EXHIBITIONS (SELECTED)
1967
»Tendenzen '67«, Schmuckmuseum Pforzheim, Germany
»Form und Qualität«, Internationale Handwerksmesse, Munich, Germany
1970
»International Jewellery Arts Exhibition«, Tokio
II. Biennale Internazionale del Gioiello d'Arte, Carrara, Italy
»Tendenzen '70«, Schmuckmuseum Pforzheim, Germany
1971
»Gold + Silber, Schmuck + Gerät. Von A. Dürer bis zur Gegenwart«, Nürnberg, Germany
1973
»Tendenzen '73«, Schmuckmuseum Pforzheim, Germany
»International Jewellery Arts Exhibition«, Tokio
Electrum Gallery, London
1974
»18 Orfèvres d'Aujourd'hui«, Lausanne, Switzerland
1976
Galerie Alberstraße, Graz, Austria
»International Jewellery Arts Exhibition«, Tokio
1980
»Schmuck International«, Künstlerhaus, Vienna
»Schmuck, Zeitgenössische Kunst aus Österreich – Gioiello, Arte Contemporanea d'Austria«, Biennale di Venezia, Ateneo San Basso, Venice
1989
»Ornamenta«, Schmuckmuseum Pforzheim, Germany
1990
»Gioielli e Legature – Artisti del XX secolo«, Biblioteca Trivulziana, Castello Sforzesco, Milan
1994
»Schmuckszene '94«, Munich, Germany
1998
»SOFA – Sculptures, Objects, Functional Art«, New York (c/o Galerie Tiller, Vienna)
1999
»10 Jahre Galerie Slavik«, Galerie Slavik, Vienna
»Turning-point, Schmuck aus Österreich zur Jahrtausendwende«, NÖ Dokumentationszentrum für Moderne Kunst, St. Pölten, Austria
2000
»Schmuck 2000«, Munich
»The Ego Adorned«, Königin Fabiolazaal, Antwerp, Belgium
»L'ACQUA DURA«, Progetti di scultura per la riviera del Brenta, Villa Pisani, Stra, Italy
2001
»L'Arte del Gioiello ed il Gioiello d'Artista dal '900 ad oggi«, Museo degli Argenti, Florence, Italy
»Micromegas«, Bayerischer Kunstgewerbeverein, Munich
»Mikromegas«, American Crafts Museum, New York
»Radiant Geometries«, American Crafts Museum, New York
2002
»Padova – Vienna. Quattro Stazioni«. Gioielleria contemporanea, F. Pavan, A. Zanella, H. Kodré, P. Skubic, Oratorio di San Rocco, Padua, Italy
»Mikromegas«, Musée de l'Horlogerie et de l'Emaillerie, Genève, Swizerland
»Mikromegas«, Hiko Mizuno College of Jewelry, Tokio
2003
»Schmuck '03«, IHM Munich
»Lo Strutturalismo nella Gioielleria Contemporanea«, Galleria Entratalibera, Milan, Italy
»Mikromegas«, Powerhouse-Museum, Sydney
»Mikromegas«, John Curtin Gallery, Curtin University of Technology, Perth, Australia
»Mikromegas«, Oratorio di San Rocco, Padua, Italy
2004
»The Minimal Ring«, Confident Gallery, St. Petersburg, Florida
16. Schmucksymposium Turnov, Muzeum Ceského Ráje, Turnov
2005
»Joalharia«, Museo Nacional de Arqueologia, Lissabon
»15 Jahre Galerie Slavik«, Galerie Slavik, Vienna
»Gioielleria Contemporanea, MINIMAL ART«, Studio GR 20, Padua, Italy
2006
»Gioielleria Contemporanea, MINIMAL ART«, Galleria »La Ruota«, Cortina d'Ampezzo
Struttura e Volume, Galleria Maurer-Zilioli, Desenzano del Garda, Italy
»Attraversamenti«. Scultura contemporanea, Galleria Civica, Desenzano del Garda, Italy
2007
Klimt02/Gallery, Barcelona
»Glass Wear«, Glass in Contemporary Jewelry, Toledo Museum of Art Toledo, USA
SOFA, Chikago c/o Gal. Jennifer David, Pound Ridge, USA
2008
Eligius-Schmuckpreis des Landes Salzburg 2007, Galerie V&V, Wien
2009
»Collect 09«, Saatchi Gallery London, c/o Gal. Alternatives, Roma
»Glass Wear«, Museum of Arts and Design, New York
»Lingam«, Konstfack, University College of Arts, Crafts and Design, Stockholm
2010
»Lingam – 122 Hedendaagse Vruchtbaarheidssymbolen«, Museum, Catharijneconvent, Utrecht
»Wunderwerk«, Selected Works from Austria/Germany: 1970–2010, Philadelphia Art Alliance, Philadelphia, USA
»20 Jahre Galerie Slavik«, Galerie Slavik, Vienna
2011
»Omaggio a Guariento – L'oro contemporaneo«, Studio GR 20, Padua, Italy
»Art Austria«, Wien, c/o Galerie Amartis, Vienna
»Castelli, miniature, astri ed alchimia – La Padova carrarese nel gioiello contemporaneo«, Padua, Oratorio di San Rocco
2014
»Amber in Contemporary Jewellery", Makslas Galerija Putti, Riga
2015
»Schmuck 1970–2015, Sammlung Bollmann« MAK, Wien
»Omaggio a Donatello«, Premio Mario Pinton, Padua, Oratorio di San Rocco
»Amber Chamber«, Ring Gallery, Legnica, Polen, Galerie Orfeo, Luxemburg, Velvet da Vinci, San Francisco, Alternatives Gallery, Rom, AV(17) Gallery, Vilnius, Litauen, Galerie V&V, Wien
2016
»Schmuck 2016«, Sonderschau der IHM München
»Unscharfe Geometrie« – Die Weiterentwicklung der Konkreten (Kunst), Malerei, Graphik, Objekte, Skulptur, Artmark Galerie, Wien
2018
»Jablonec *68«, Pinakothek der Moderne, München